Computation linked to CADD.
While most of the McCann Science activity is directed to mathematical modelling and simulation, we can also provide assistance in computer aided drafting, either as part of the work on design and modelling or as separate assignments.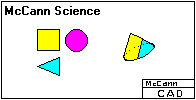 Autocad in Use
We use Autocad by Autodesk. We can convert your sketches into CAD files. We can make CAD drawings that are driven by computations such as Mathcad so that the physical design consequences of system parameter changes can be immediately visualised.
We can take your marked up drawings and corresponding CAD files, do the modifications you need and send the new files back to you using email, internet, ftp, CD-RW as you chose.
Location
We are located in SE Pennsylvania, Near Westchester PA so we are near Wilmington DE and Philadelphia PA. Baltimore MD, Washington DC, New York NY, Camden NJ and Arlington / Reston VA are fairly close. But we have found that it is not necessary to be close by to collaborate.
Call or email us and see what makes sense. We will be happy to do a little free test example to make sure we have a mutually satisfactory mode of working.
Recent Work
Areas of recent work include mechanical drawings, P&ID (piping and instrumentation diagrams).
Links in website:
Home/Index Page
Invitation. McCann can help if you have a design or operational problem that needs some technical support that is outside your team's experience, some quantitative assessment of what is really the cause of the difficulties, some design alternatives or just a fresh look by an intelligent interrogator.
If you have a problem with the behaviour of a market sector, plant, process or item of equipment and would like to get a quantitative handle on it to improve yield or optimise performance, then contact us. We are always ready to give a little time to discuss a new puzzle, in confidence, of course. We'll only worry about fees when we have some defined work. We can be flexible about how we work with you.
Top
McCann Science,
POB 902,
Chadds Ford PA
19317 USA.
T: 1 302 654-2953
F: 1 302 429 9458
E: mjmccann@iee.org